---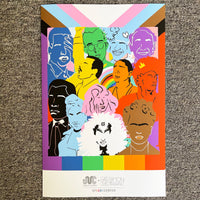 By Manuel Carmona and Simón Malvaez
11 x 17 inches, high-quality digital print. 
Artwork from our SF LGBT Center's mural
We started with the Progressive Pride Flag because to us it represents the amazing diversity within the Queer community. We wanted to showcase "heroes" from the past and present who we feel should be celebrated in the LGBTQ+ community as well as the intersection with our Latino Heritage. Launching a limited edition print as a farewell to this mural during Pride Month 2023.


A percentage of the sales of this print goes to the SF LGBT Center